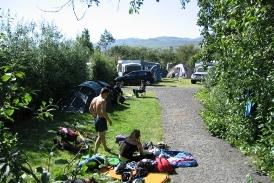 Perfect family camping area with a variety of recreation possibilities.
A new camping ground was taken into operation in Varmahlid in the summer of 2008.  It is located in the protected forest area on the southern slope of Reykjarhól and is open from 15th of May to 1st of October each year, opens sooner if weather permits.
The site is sheltered from the prevailing north wind by the hill above the village, called Reykjarhóll. It is also built into an old forest preserve area so the trees are more mature than the age of the campsite suggests. The facilities are exquisite with hot and cold water, toilets, a brand new set of showers, as well as hand basins both inside and outside. Plus there is a new indoor kitchen area, where guests can cook and relax after their day of adventure. The site is divided into separate areas for tents, caravans and campervans all with electricity. A campfire location is available and open for use with adult supervision. 250 meters through the forest you come to the local lovely swimming pool, a playground for kids of all ages, and two football fields are a stone's throw away. We also have a bouncy balloon right on site.
Hiking trails:  There are easy hiking trails around the forest and neighbourhood, and the more experienced climbers can hike up Mælifellshnjúkur, Tindastóll or Glóðafeykir. Multiple museums, churches and places of historical interest and importance are located nearby, and more adventurous activities such as horse riding, horse shows, river rafting and paintball operators are within a short journey, to name but a few of the attractions in the area.
In Varmahlid 500 meters down the hill you'll find all the practicals, including the Tourist information centre, restaurant, supermarket, post office, gas station and bank.
The campsites in Sauðárkrókur, Hofsós, Hólar and Varmahlíð are working together. You can therefore stay the first night in any of the campsites and the next night in any of the others at our discounted rate.
For further information please contact the wardens either Hildur Magnúsdóttir or Halldór Gunnlaugsson on +354-8993231